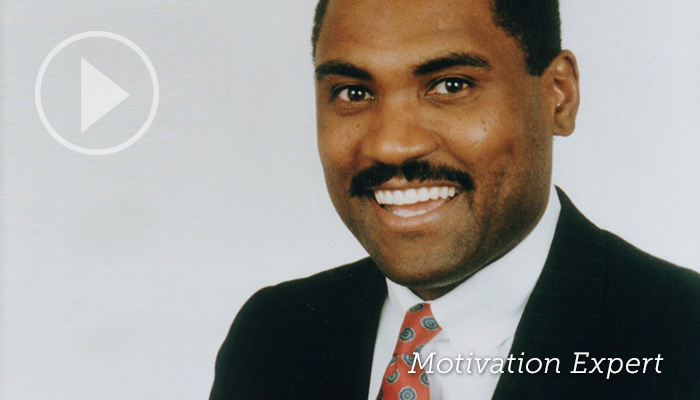 20 years as corporate sales & marketing executive
Successful real estate entrepreneur
Owner of thriving Dickey's Bar-B-Que franchises
Motivational coach for Minnesota Vikings NFL team
Author of Where There's a Will, There's a Way and Get off Your Assets
Member of Speaker Hall of Fame and Certified Speaking Professional
Where There's a Will, There's a Way!
Succeeding in the Face of Turbulent Times
Every person and organization has willpower and hidden assets within them that, when unleashed, can yield tremendous results. This program teaches the skills necessary to discover and tap into those powerful assets, both in your personal and professional life. The result is a powerful shift in mindset and behavior that inspires people to do extraordinary things despite adversity.
The Challenge of Change
Tools for Transformational Thinking
In this eye-opening session Desi reveals the tools for transformational thinking and shares the skills that help people break the cycle of complacency and mediocrity, empowering them to become masters of change rather than victims of circumstance. The result: Change agents who understand that the best way to predict the future is to create it!
Leadership for the 21st Century
Influencing with Impact 
The foundation of any successful organization is characterized by outstanding leadership. Here you'll learn 21st century leadership skills that are centered on a customer focused strategy, which includes the process of empowerment, diversity as a competitive advantage and why leadership and management are different, yet critical skills that must be activated at the right time for maximum effectiveness.
Impact!! Sales Strategies
Secrets of Successful Selling
Decision-making by the customer in the sales process is often affected by fear and negative emotions. This comprehensive program covers a vast spectrum of skill sets, from basic to more advanced selling skills. You'll learn how to build rapport with anyone immediately, ask targeted questions leading your prospect to reveal true needs and desires, make persuasive presentations, handle objections, professionally close the sale, and build a strong referral network.
Franchise Success
Creating Franchise Success: Grow Your Business, Develop Leaders, Keep Your Customers Loyal
Desi has formed a partnership with Lisa Ford an authority on customer service and the creator of a best-selling customer service video training program. This inspiring "duo" provides critical skills, strategies, and solutions to achieve results and grow your business. They both know there's not a job too small or difficult for a franchisee determined to succeed. Audiences will experience extraordinary value-added energy created by the unique combination of each speaker's expertise, exceptional leadership and exceptional customer service.
Keynote Overview:
Ignite purpose, passion and power in your business
Hire, train and develop the right people
How to create synergy between the parent company and the franchisee
Gain buy-in to new processes and create change
Daily strategies required to create a memorable customer experience
Ask the tough questions to grow your business and innovate
Execute the fundamentals daily
Breakout Session Bonus:
The Leadership Success Factor – Desi Williamson
Create an atmosphere of accountability and responsibility
How shift leaders and meetings increase your productivity and focus
How to share information about the progress of the business and use it to motivate your team
How to minimize turnover and increase productivity
The difference between leadership /management and why they're both critical to your success
Creating A Customer-Focused Culture – Lisa Ford
Define quality customer service and standards needed to implement it
The new rules of customer experience
Service is adding people to the product – differentiate to win customers
Hiring, training and empowering for top notch customer service
Strategies needed to create lasting change in your culture
What leaders must do to guide success
Each program includes a dynamic one-hour keynote with Desi and Lisa followed by two individual one-hour breakout sessions. If desired a second rotation of breakouts can also be added.
"This being our first member luncheon of the year, we wanted to find a dynamic and motivating speaker that would entertain and captivate our audience. And Mr. Impact, you ABSOLUTELY fit that bill. Your speech was entertaining and inspiring and presented with spirit and passion. We have received nothing but positive comments from our members, so I would say that your presentation absolutely made an impact that will not soon be forgotten."
Houston Automobile Dealers Association
"Desi's specific message to our 2007 Minnesota Vikings team is far and away the best I've heard in my 30 years of coaching! He has a compelling life story which he's able to make come to life as he builds it around team, family, values and goals. His delivery had 61 professional athletes and coaches (a tough crowd) riveted. The greatest part of his talk was relating to the group with interaction and research that he only could have known by doing an extraordinary amount of detailed homework. Desi pulled a group of young, rich guys with big egos together with a unified message of how to live their day to day lives 'with impact.' We will attempt to have Desi as an integral part of our future at the Minnesota Vikings for as long as we can retain his services. SIMPLY THE BEST!" 
Minnesota Vikings

"I just wanted to tell you what a pleasure it was to meet you last week and to have you close our Future Connect Conference on such a high note. You did a great job and people loved your presentation! I hope we have the opportunity to work together again. And based on the people clamoring around you afterwards, I expect you'll be getting some repeat business in the supermarket industry! Desi, again it was just a pleasure to work with you and I hope to see you when I'm in Minneapolis, AND to work with you again sometime! I'd be happy to serve as a reference should you need it."
Food Marketing Institute
"Thank you for delivering a spectacular Closing Keynote presentation at the Houston HR Leadership Summit. The responses have been overwhelmingly great! Your ability to engage the audience and keep their attention for the entire time speaks louder than words. I kept my eye on the audience – they were spell-bound with smiles on their faces. Your personality, passion, humor, lessons and coaching was certainly refreshing during these times in which we're all experiencing. Your message integrated seamlessly with the skills and the experience of the audience."
Houston HR Leadership Summit
"From our initial meeting, I was aware of Desi's authenticity and quickly learned his life's passions. He shared personal and inspiring examples that were real and tangible, and he took the time to learn as much as he could about our business and presentation goals. Whenever he had questions or suggestions prior to the Summit event, he didn't hesitate to reach out and contact us. Desi's delivery at the Leadership Summit was exceptional and nothing short of entertaining. He utilized props, video clips, humor, music and pictures to engage the audience in his powerful performance. His stories and learned lessons were practical ideas and things that the audience could relate to. Desi demonstrated how to inspire greatness within oneself and with others and also shared how to positively manage change. I highly recommend Desi and believe he exhibits many of the qualities that are essential to delivering powerful presentations."
Wells Fargo & Company