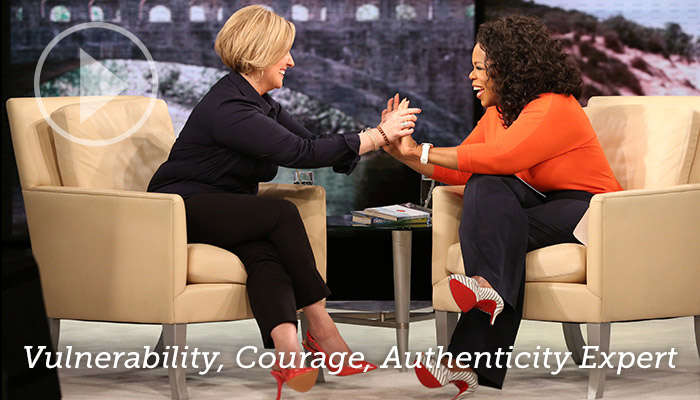 Research professor at the University of Houston, where she holds the Huffington Brené Brown Endowed Chair at The Graduate College of Social Work
Author of three #1 NYT Bestsellers: The Gifts of Imperfection, Daring Greatly, and Rising Strong
TEDx Speaker & one of TED's top 5 most viewed TED talks in the world
Founder and CEO for The Daring Way™ 
Founder and CEO of COURAGEworks – an online learning platform
Client List includes Google, Banana Republic, MorganStanley, St. Jude Children's Hospital
Overview:
Every day we experience the uncertainty, risks, and emotional exposure that define what it means to be vulnerable, or to dare greatly. Based on thirteen years of pioneering research, Dr. Brené Brown dispels the cultural myth that vulnerability is weakness and argues that it is, in truth, our most accurate measure of courage.
Brown explains how vulnerability is both the core of difficult emotions like fear, grief and disappointment, and the birthplace of love, belonging, joy, empathy, innovation, and creativity. She writes, "When we shut ourselves off from vulnerability, we distance ourselves from the experiences that bring purpose and meaning to our lives and our work."
In a scarcity culture where "never enough" dominates and fear has become second nature, vulnerability is subversive. Uncomfortable. It's even a little dangerous at times.  And, without question, putting ourselves out there means there's a far greater risk of getting criticized and failing. But when we step back and examine our lives, we will find that nothing is as uncomfortable or dangerous as standing on the outside of our lives and wondering what it would be like if we had the courage to show up and let ourselves be seen.
Keynote/Workshop Topics: 
RISING STRONG
In this keynote/workshop we will:
Explore the critical role emotion plays in a behavioral change and the connections between emotion, thought and behavior
Define integrity and explore how offloading emotion moves us away from our values and corrodes culture
Examine the power of storytelling and the dangers of confabulations and conspiracies
Explore the three elements of the Rising Strong process (The Reckoning, The Rumble and The Revolution)
Develop actionable strategies for getting back after a fall or setback so that we can live, love, and lead with greater courage
DARING GREATLY or THE POWER OF VULNERABILITY 
In this keynote/workshop we explore:
The critical role vulnerability plays in our personal and professional success
The four major myths of vulnerability
The relationship between vulnerability and creativity, innovation, trust, engagement and joy
 The most common strategies we use to avoid and minimize vulnerability and how they move us away from our goals
Actionable strategies for leaning into our discomfort and embracing vulnerability as a source of courage
DARING LEADERSHIP™ 
In this keynote/workshop, we explore:
The relationship between vulnerability innovation, creativity, trust, adaptability to change, and accountability 

The role of courage (and discomfort) in authentic leadership
The five most common strategies we use to avoid and minimize vulnerability and how they move us away from our goals
How fear, blame, and scarcity sabotage the goal process
Actionable strategies for leaning into our discomfort and embracing vulnerability as a source of courageous leadership
DARING CLASSROOMS™
In this keynote/lecture, we explore:
The relationship between learning, creativity, and vulnerability
How and why teachers, students, and parents armor up in the classroom
How shame affects social and academic learning
Why boundary-setting (with students and parents) is necessary to cultivate compassionate classrooms
How teachers and school administrators can turn difficult situations into opportunities for connection and growth
How and why we are physically, emotionally, spiritually hard-wired for connection
Strategies for helping children develop hopefulness, perseverance, and a stronger tolerance for disappointment
Brené enjoys working with event organizers to customize her talks. 
"Brené Brown far exceeded our expectations. Her ability to engage and hold the audience was incredible and attendees were talking about it for the remainder of the event. Attendees came away with a new understanding of the importance of vulnerability, that it is the birthplace of innovation and creativity, getting into the arena, having a go and being a participant not a spectator, and being courageous is not always comfortable. She has an amazing ability to draw out the key findings of her research on vulnerability and courage, and present them in a way that strikes a chord with all attendees and leaves them contemplating their own lives, professional and personal, and making instantaneous meaningful changes to their actions and behaviours."
Commonwealth Bank
"Our session with Brené was overwhelmingly positive and our leaders commented on what a great experience it was. Our survey results indicated she received the best ratings for external speakers that we've had in the last two years. Her content is applicable to our professional and personal lives, men and women alike. Her message about vulnerability is re-shaping our conversation about what it means to be a good leader – we were surprised by how engaged and excited out team was about the message!"
Home Depot
"A unique experience for hard-charged senior executives – one which allowed the team to look at leadership from a very different, very personal perspective. The concept of Daring Greatly, combined with wholehearted and being vulnerable opened up their willingness to step out of their comfort zone and step change how they will lead in a high growth company."
Mondelez International
"One question we had when we hired Brené to speak to our audience of more than 3,000 business people from 90 countries was, 'Would her topic and style be effective for business?' My answer is a resounding YES. While many speakers try to motivate, Brené actually inspires people in business by helping them identify and free themselves from what blocks them from their reaching their potential. Her delivery was deeply personal yet it was relevant for all, including those in our culturally diverse audience for whom English is their second language. The universal comment from our attendees was, 'I felt she was speaking directly to me.' That is the ultimate endorsement."
Virtuoso Ltd.
"Today's global economy is forcing businesses to increase productivity and efficiency while reorganizing to reflect the global landscape. Brené's research on connection, empathy, and vulnerability in the workplace helped us better understand how the emotional consequences of change play out in the workplace, and how to more effectively engage with one another. She delivers a critically important message that is supported by original research and does so in an engaging and intelligent way. Leaders at all levels of the organization come away with a new framework for looking at these issues and making effective changes to how they lead."
Shell Oil Company