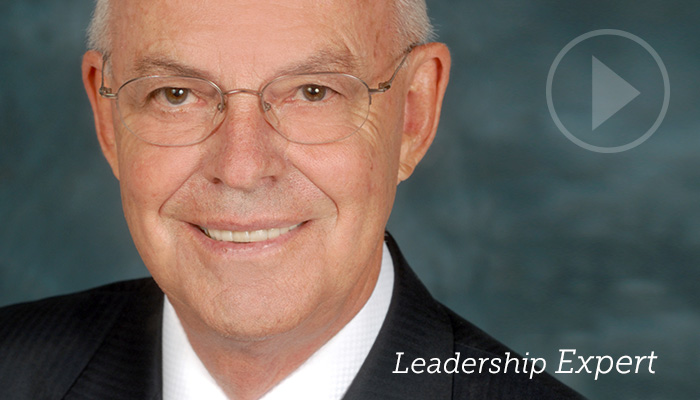 Former CEO of Southwest Airlines
Author of The Winds of Turbulence
First CEO to take a major airline (Braniff) through Chapter 11 successfully
MBA in Marketing & attended Harvard's Advanced Management Program
Founding faculty member of MentorU.com
Member of Speaker Hall of Fame & Certified Speaking Professional
Client List Includes NASA, Pfizer, JP Morgan, Wells Fargo, Boeing
Leadership
Successful Strategies Through Turbulent Times
Leaders must have a clear and concise vision if they want their organizations to survive and thrive through turbulence. A clear understanding of what business you are really in is critical. Cultures can then be developed to support the vision and business. Bottom line improvement comes through your people. Howard shares his principles of leadership and outlines key strategies to navigate turbulence successfully.
Innovation 
Creating a Culture and Process for Ideas to Emerge
Innovation occurs in organizations that embrace a culture for risk taking and idea implementation. Howard Putnam proved this philosophy works when he was CEO of Southwest Airlines. He positioned and organized Southwest for growth and profitability utilizing a very flat management structure with decision-making and idea development imbedded in everyone's job scope and responsibility. Individuals and teams were rewarded for risk taking and for designing out of the box processes and improvements in productivity, customer service, cost containment, safety and profitability. Brands develop when people thrive in the vision and experience.
Change
Transforming Organizations Successfully & Profitably
Many organizations are out of alignment in the current turbulent environment. Their design is outdated with bureaucracy and a hierarchy that is expensive and inefficient. Howard Putnam will show you how to transform your business into a "flow state" organization that is focused, nimble, flexible, cost effective and able to utilize the "stages of turbulence" which he will identify for you to take advantage of being in a change state.
People and Culture 
Hiring Attitudes & Developing Their Skills
Successful organizations that are in business for the long term, place their people first if they want sustained bottom line improvement. Howard Putnam led the visioning process at Southwest Airlines in which a key element was the culture, putting their people first and matching attitudes with the culture. Happy employees and superior customer service resulted from this concept. He will share behind the scenes looks on how this was accomplished with great stories, humor and concrete ideas and suggestions.
Ethics 
The Ultimate Challenge in Ethics; Are You Really the Person Your Dog Thinks You Are?
Organizations cannot ignore the need for proactive efforts to ingrain honesty, integrity and trust at every level. Today's environment requires ethical leaders, if they want their businesses to survive and grow. Howard Putnam learned the values of trust and honesty as he grew up on an Iowa farm. He has embodied those principles in his successful business career. He took on the challenge of saving Braniff International only to find the "books had been cooked" prior to his arrival. He will share this character building experience of taking a major airline through Chapter 11 successfully and offer a flight plan for you to implement in your organization.
"Howard, I wanted to extend my sincerest thanks for your hard work and dedication to this year's Community Hospital 100 Conference. The feedback we have received has been extremely positive, with a particular note that our education this year was top notch! The value you brought to our education program is immeasurable, and we are truly grateful to consider you a part of the Lincoln Healthcare Events family."
Lincoln Healthcare Events
"Thanks for your keynote at our Spring CLO Symposium in Miami. It was a genuine pleasure to meet you in person…the initial feedback I received from attendees on your keynote was great. Here's a sample from one of our magazine's editorial advisory board members: - phenomenal, engaged with audience, inspired the audience, identified with the audience, and I was disappointed when it was over – I wanted to hear more…. most of those around me said similar things…. In fact, if I had opportunity to work for this man, I would…Homerun, Touchdown, etc…."
Chief Learning Officer Magazine
"On behalf of the entire Ash Brokerage team, I would like to thank you for the message you delivered at our Spring Summit. You were entrusted to set the tone and kick off the meeting with a powerful message to our most successful clients, and you certainly did not disappoint! You brought thoughtful perspectives and ideas our clients will not soon forget. In fact, one client remarked that it was 'very refreshing to listen to someone who is truly one of the last sincere, genuine, honest and hard-working executives who does the things that make a real difference in people's lives.' I cannot thank you enough for opening our conference on such a compelling note!"
Ash Brokerage
"Howard Putnam was the best professional speaker I have ever had the privilege to work with. He took the time up front to gain a solid understanding of our industry and our business goals. His presentation approach hit on the specific goals we were trying to accomplish at this meeting. His style is one that makes you want to listen. His views on people, vision and ethics is sorely needed today. If you want to end your conference with an everlasting bang, Howard Putnam is your man."
DuPont Performance Coatings
"Howard helped our leaders get out of our "box" by discussing challenges and difficult changes that the airlines industry and certain companies have gone through and how they succeeded (or failed). It was an easy leap to see how the business challenges they faced have similarities to our own, and how strong, inspirational leadership rises above the challenges to ensure success.Further, his message is one of not just accepting change and playing the game as we know it, but rather rising to the challenge and changing the way the game is played. From his personal stories and with his charming wit, Howard inspired us all to give our very best every day and enjoy ourselves while we're doing it."
Gulf Power Company
Check Howard's Availability
We manage all of Howard Putnam's events and know what it takes to make your next meeting a success. Contact us today for a planning consultation with Howard's coordinator.