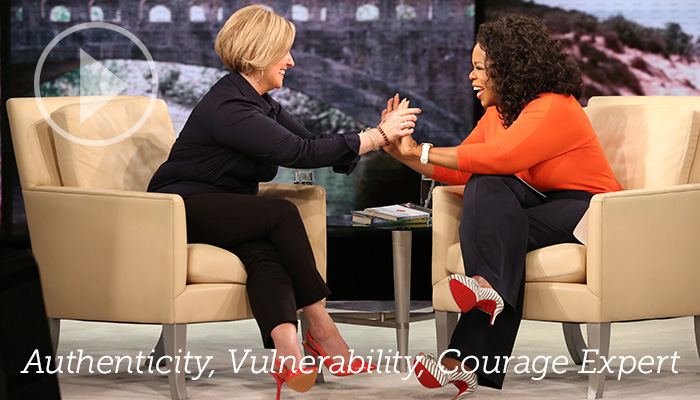 Hi All,
Thank you for your interest in my work. For the past five years, I've had the absolute privilege of working with the amazing crew here at SpeakersOffice, Inc. It's been quite an adventure!
One of my favorite poets, Mary Oliver, asks, "What is it you plan to do with your one wild and precious life?" As I've grappled with that question, the SpeakersOffice team has supported and encouraged me to try new ways to balance my passion for speaking with my commitment to teaching and research, and, most important, with my deep yearning to be at home with my family, drive carpool, build LEGOS with my son, and cheer my daughter on in field hockey.
After six months of brainstorming, Holli and I have a new plan! Effective July 1st, my speaking requests will be managed internally by my Daring Way team.
Given my limited availability, this change will allow us to coordinate my calendars, use Daring Way resources, and talk to you about the possibility of collaborating with us on research. We're establishing a research lab to develop new instruments and methods to make my organizational development and clinical work more effective. If that sounds interesting, we'd love to work together!
If you are interested in being a part of my community, scheduling an event, or would like to learn more about my work, please submit your online inquiry here and we'll contact you as soon as we've had the opportunity to review your request.
I'll also be hanging out here as long as they'll have me!
Thanks!
Brené
Professor & Researcher at the University of Houston, Graduate College of Social Work
TEDx Speaker & one of TED's top 10 most viewed videos in the world
Author of Daring Greatly, The Gifts of Imperfection & I Thought It was Just Me (But It Isn't)
Creator of DVD, The Hustle for Worthiness
Author of Connections, a psychoeducational shame resilience curriculum
Client List includes Google, Banana Republic, MorganStanley, St. Jude Children's Hospital
Daring Greatly
Every day we experience the uncertainty, risks, and emotional exposure that define what it means to be vulnerable, or to dare greatly. Based on twelve years of pioneering research, Dr. Brené Brown dispels the cultural myth that vulnerability is weakness and argues that it is, in truth, our most accurate measure of courage. In this keynote Brené explains how vulnerability is both the core of difficult emotions like fear, grief and disappointment, and the birthplace of love, belonging, joy, empathy, innovation, and creativity.
For Business Leadership
The Inspirational Leader: Why Courage, Authenticity, and Calm Matter
From developing talent and connecting with consumers, to building brands and fostering innovative cultures, inspiration is critical. Inspirational leadership is not about job titles and roles – it's a style of leadership available to anyone who is willing to practice courage in the midst of fear, to choose authenticity over self-protection, and to foster calm in times of high reactivity.
In this keynote/workshop, we will explore:
 The three primary components of inspirational leadership;
 The behaviors, emotions, and thoughts that sabotage inspiration; and
 Actionable strategies for practicing inspirational leadership.
The Power of Vulnerability
In our culture, vulnerability has become synonymous with weakness. We associate vulnerability with emotions like fear, shame, and scarcity; emotions that we don't want to discuss, even when they profoundly affect the way we live, work, and even lead.
To reduce our feelings of vulnerability, we wake up every morning, put on our game face, and rarely take it off – especially at the office. We use invulnerability as a shield to protect us from uncomfortable emotions and struggles with anxiety and self-doubt. But invulnerability has a price.
Vulnerability is indeed at the core of difficult emotions, but it is also the birthplace of: Creativity and innovation, authenticity, adaptability to change and accountability – the key elements that every business needs to survive and thrive.
In this keynote/workshop, we will explore:
The critical role vulnerability plays in our personal and professional success
The five most common strategies we use to avoid and minimize vulnerability and how they move us away from our goals; and
Five actionable strategies for leaning into our discomfort and embracing vulnerability as a source of strength and inspiration
Great Expectations: What Leaders and Managers Need to Understand about Goals
Setting, tracking, and celebrating goals are primary tasks in business; however, very few managers and leaders understand the emotional, cognitive, and behavioral anatomy of the goal process. Understanding the loaded dynamics of expectations, disappointments, and accomplishments gives us more tools for cultivating success with our own goals and becoming more effective mentors for our employees.
In this keynote/workshop, we will explore:
The relationship between buy-in and the deeply human need for purpose and meaning;
How fear, blame, and scarcity sabotage the goal process;
Why hope, vulnerability, and self-compassion are prerequisites for success; and
Actionable strategies for increasing goal achievement.
The Only Constant is Change: Developing Courage, Compassion and Connection in Overstressed and Anxious Organizations
For organizations to successfully navigate change, it is imperative that employees at all levels bring their best selves to work. But too often leaders and managers don't know how to navigate the emotional landscape of change – especially the human response to stress, anxiety, and fear. Unknowingly, leadership often incites the exact behaviors that sabotage the creativity, trust, and accountability that are essential to managing change.
In this keynote/workshop, we will explore:
The primary patterned methods for managing anxiety and how to use these as intervention tools;
How fear and uncertainty can turn the best organizational cultures into shame and blame cultures and why courage, compassion, and connection are the best practices for strengthening culture during change; and
Actionable strategies for cultivating a culture of courage, compassion, and connection in the midst of change.
The following topics have been delivered as keynotes and workshops to corporations, associations, medical and nursing professionals (from grand rounds to national conferences), school faculty and administration, mental health and addiction professionals, parents, and faith-based groups.
The heart of Brené's work is about helping people better understand how our thoughts, emotions, and behaviors shape who we are so that we can be our best, most authentic selves. Each of these topics can be tailored to fit the needs of your audience. Topics from the business and leadership areas can also be integrated into these keynotes/workshops.
The Hustle for Worthiness: Exploring the Power of Love, Belonging, and Being Enough
A deep sense of love and belonging is an irreducible need of all men, women, and children. We are biologically, cognitively, physically, and spiritually wired to love, to be loved, and to belong. When those needs are not met, we don't function as we were meant to. We break. We fall apart. We numb. We ache. We hurt others. We get sick. We confuse purpose and meaning with acquisitions and accomplishments. We lose sight of what is important.
The greatest barrier to experiencing love and belonging is our own beliefs about our worthiness. When we struggle to believe that we are truly worthy of love and belonging, we hustle for it. It's the constant shuffle of:
"What will people think?"
"No one can find out about __________."
"I'm going to pretend that everything is OK."
"Am I _____________enough?"
"I'll be worthy if and when . . . "
Worthiness is not about who we should be or who we might be or who we could be. It's about who we are. Right now. Today. It's about waking up and believing, "I am enough."
In this keynote/workshop, we will explore:
The definitions of love and belonging that emerged from Brené's 10-year study on Wholehearted Living;
Why owning our story is an integral part of claiming our worthiness; and
Specific strategies for cultivating a life defined by authenticity, love and belonging, and worthiness.
The Gifts of Imperfections: Guideposts for Letting Go of Who We Think We're Supposed To Be and Embracing Who We Are
Each day we face a barrage of images and messages from society and the media telling us who, what, and how we should be. We are led to believe that if we could only look perfect and lead perfect lives, we'd no longer feel less than. So most of us perform, please, and perfect, all the while thinking,
What if I can't keep all of these balls in the air?
Why isn't everyone else working harder and living up to my expectations?
What will people think if I fail or give up?
When can I stop proving myself?
In this keynote/workshop we will explore tools for engaging in our lives from a place of authenticity and worthiness, including:
How and why authenticity is a collection of daily choices rather than an inherent way of being;
How perfectionism is different than healthy striving and why we use "being perfect" as protection; and
Actionable strategies for cultivating the gifts of imperfection: courage, compassion and connection.
Courage and Story: Three Guideposts for Cultivating a Resilient Spirit
This workshop will explore the concepts of self-compassion, rest and play, and belonging, and how these experiences relate to resilience and hope.
In this keynote/workshop, we will explore:
Hope as a cognitive behavioral construct and identify the elements of hopefulness;
How rest and play affect the development of resilience; and
The components of healthy belonging and how they relate to self-acceptance and resilience.
The Art of Acceptance: Why Boundaries, Accountability and Compassion Come First
We often hear how important it is to cultivate acceptance, but we don't talk about the critical roles that boundaries, accountability, and compassion play in that process. In this workshop we will explore how boundary setting and accountability facilitate compassion and acceptance and help counter feelings of resentment and blame.
In this keynote/workshop, we will explore:
The meaning of compassion and how it is different than empathy and sympathy;
The challenge of practicing compassion in culture of blame;
The role that boundary-setting plays in the development of acceptance; and
The anatomy of accountability and how it relates to vulnerability and self-compassion.
For Health Professionals
I'm Trying to Help! Cultivating Compassion and Empathy with Difficult Patients and Families
In an increasingly anxious world, nurses, physicians, social workers, and hospital administrators often find their efforts to help met with resistance and anger. Fear, anxiety, and uncertainty create hostile environments even when our goal is to help, support, and heal.
Upon completion of this keynote/workshop, participants will be able to:
Demonstrate an understanding of the elements of empathy and how empathy is correlated to positive patient outcomes;
Identify the three components of self-compassion;
Demonstrate an understanding of the relationship between self-compassion and empathy;
Identify how and why our functioning is affected by anxiety; and
Identify two strategies for practicing self-compassion and empathy in anxious work environments.
Wired for Connection: How Empathy, Shame, and Vulnerability Affect Helping and Healing
There is a constant barrage of social-cultural expectations that tell us that being imperfect is synonymous with being inadequate. After spending 10 years studying authenticity, shame, and belonging, Dr. Brown believes that nothing could be further from the truth – our imperfections are what connect us to each other and to our humanity. Our vulnerabilities are not weaknesses; they are powerful reminders to keep our hearts and minds open to the reality that we're all deeply connected and more the same than different.
In this workshop/keynote we will explore the concepts of shame, empathy, and vulnerability, and the role these emotions play in perfectionism, addiction, and isolation. Clinicians will learn specific tools and strategies for helping clients understand shame and develop shame resilience. Experiential and didactic learning will focus on how we can use individual and group modalities to help clients find the courage to talk about their fears of being unworthy, unlovable, and "not good enough" so they can move through shame in order to live more compassionate and connected lives.
At the conclusion of this workshop, participants will be able to:
Define shame and differentiate the construct from guilt, embarrassment, and humiliation;
Demonstrate an understanding of the role empathy plays in the development of shame resilience;
Identify the four elements of shame resilience (as conceptualized in shame resilience theory - SRT); and
Utilize one clinical tool related to each of the four elements of shame resilience (SRT)
Shame, Addiction and Authenticity: Issues for Adolescents and Young Adults 
For teens and young adults, the yearning for belonging is so strong and the sensitivity to shame is so high that "fitting in" becomes an acceptable substitute, even if it means sacrificing their sense of self and engaging in high-risk behaviors. In this presentation we'll explore shame resilience strategies that can help teens and young adults navigate the very real need for belonging while cultivating their sense of an authentic self.
At the conclusion of this workshop, participants will be able to:
Define shame and differentiate the construct from guilt, embarrassment, and humiliation;
Demonstrate an understanding of the role belonging plays in the development of shame resilience; and
Utilize one clinical tool related to each of the four elements of shame resilience (SRT).
For Education
The Pedagogy of Resilience: Strategies for Cultivating Hope, Gratitude, and Perseverance
In this keynote/lecture, we'll explore:
How and why we are physically, emotionally, and spiritually hard-wired for connection;
The newest research on hope as a cognitive behavioral process;
The relationship between joy and gratitude; and
Strategies for helping children develop a tolerance for disappointment, hopefulness, and perseverance.
Teachable Moments: Bringing Courage, Compassion, and Connection to the Classroom

In this keynote/lecture, we'll explore:
How shame affects social and academic learning;
Why boundary-setting (with students and parents) is necessary to cultivate compassionate classrooms; and
How teachers and school administrators can turn difficult situations into opportunities for connection and growth.
The Gifts of Imperfect Parenting
Even though we come from diverse parenting traditions and rely on a variety of parenting techniques in our own families, most of us share the same hope for our children. We want our children to be authentic and to carry a deep sense of love and belonging within them, rather than always searching for it in external places.
We also want our children to know that their imperfections are not inadequacies, and that they don't need to fear being ashamed or feeling unlovable if they are different or when they are struggling.
To engage fully in the parenting journey means practicing what we want to teach and acknowledging that we can't give our children what we don't have. If we want our children to have courage, compassion and connection, we must practice these things in our daily lives. And, we must be willing to practice, teach and learn imperfectly.
The Wholehearted Child: Guideposts for Helping Children Cultivate a Resilient Spirit
In an increasingly anxious world, it's important that our children feel grounded and guided by a deep sense of purpose and meaning. Based on her most recent research, Dr. Brown will explore strategies that parents and teachers can utilize to help children develop a spirit of hope, gratitude, connection, and perseverance.
This is an additional list of recently requested topics. Again, all talks can easily be adapted to fit the needs of specific audiences.
Authenticity, Courage, and Joy: Guideposts for Wholehearted Living
The Spirituality of Midlife: Falling Apart, Growing Up, and Finding Joy
The Wholehearted Family: Guideposts for Cultivating Meaning, Purpose and Joy
I Thought It Was Just Me: Shining a Light on Perfectionism, Shame, and Being Enough
Wired for Connection: How Empathy, Shame, and Vulnerability Shape Academic and Social Learning
Self-compassion, Empathy and the Anxious Workplace
"Brené Brown far exceeded our expectations. Her ability to engage and hold the audience was incredible and attendees were talking about it for the remainder of the event. Attendees came away with a new understanding of the importance of vulnerability, that it is the birthplace of innovation and creativity, getting into the arena, having a go and being a participant not a spectator, and being courageous is not always comfortable. She has an amazing ability to draw out the key findings of her research on vulnerability and courage, and present them in a way that strikes a chord with all attendees and leaves them contemplating their own lives, professional and personal, and making instantaneous meaningful changes to their actions and behaviours."
Commonwealth Bank
"Our session with Brené was overwhelmingly positive and our leaders commented on what a great experience it was. Our survey results indicated she received the best ratings for external speakers that we've had in the last two years. Her content is applicable to our professional and personal lives, men and women alike. Her message about vulnerability is re-shaping our conversation about what it means to be a good leader – we were surprised by how engaged and excited out team was about the message!"
Home Depot
"A unique experience for hard-charged senior executives – one which allowed the team to look at leadership from a very different, very personal perspective. The concept of Daring Greatly, combined with wholehearted and being vulnerable opened up their willingness to step out of their comfort zone and step change how they will lead in a high growth company."
Mondelez International
"One question we had when we hired Brené to speak to our audience of more than 3,000 business people from 90 countries was, 'Would her topic and style be effective for business?' My answer is a resounding YES. While many speakers try to motivate, Brené actually inspires people in business by helping them identify and free themselves from what blocks them from their reaching their potential. Her delivery was deeply personal yet it was relevant for all, including those in our culturally diverse audience for whom English is their second language. The universal comment from our attendees was, 'I felt she was speaking directly to me.' That is the ultimate endorsement."
Virtuoso Ltd.
"Today's global economy is forcing businesses to increase productivity and efficiency while reorganizing to reflect the global landscape. Brené's research on connection, empathy, and vulnerability in the workplace helped us better understand how the emotional consequences of change play out in the workplace, and how to more effectively engage with one another. She delivers a critically important message that is supported by original research and does so in an engaging and intelligent way. Leaders at all levels of the organization come away with a new framework for looking at these issues and making effective changes to how they lead."
Shell Oil Company
Check Brené's Availability
We manage all of Dr. Brené Brown's events and know what it takes to make your next meeting a success. Contact us today for a planning consultation with Brené's coordinator.
Oops! We could not locate your form.