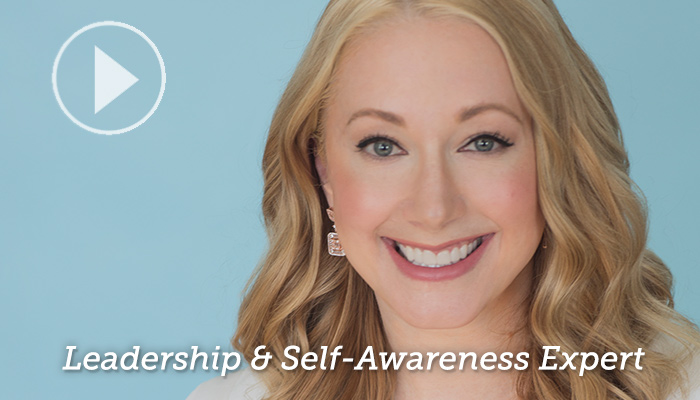 Organizational psychologist, researcher, and New York Times best-selling author
Her life's work is to build future-ready leaders who thrive in a changing world
Named one of the top 50 World Leaders in Coaching by Thinkers50
Named one of the top 30 emerging management thinkers in the world by Thinkers50
Chosen from more than 16,000 candidates as one of Marshall Goldsmith's top "100 Coaches"
Author of Insight (named best book of 2017 by Strategy+Business, nominated for 2017 best business book) and NYT bestseller Bankable Leadership
Her TEDxMileHigh talks have been viewed more than 3 million times
Ranked #13 on the GlobalGurus list of worldwide organizational culture experts
Contributor to Harvard Business Review; featured in the Wall Street Journal, The New York Times, The Guardian, NPR, Forbes and Fast Company
Tasha is passionate about working with clients to customize each event for the unique priorities and pain points of the audience. No matter what topic she covers, participants always receive:
Several actionable tools that can be applied immediately.
A highly interactive experience that cements learning and maximizes behavior change results.
Insight from cutting-edge research translated into bite-sized, easy to digest nuggets.
Becoming a Future-Ready Leader
For most leaders, the increasing rate of change—at work and in life—is downright dizzying. They face industry disruption, growing to-do lists, shrinking budgets, and the challenge of managing a demographically diverse workforce. And the behaviors that helped them in the past aren't the same behaviors they will need to succeed in the future.
Fortunately, reveals Dr. Tasha Eurich, the foundational skill of future-ready leadership is also highly learnable. Her research reveals that when leaders make the brave decision to improve their self-awareness, they become empowered to bust through barriers, make better decisions, and engage and motivate their teams.
Through her academic research on the inner workings of thousands of individuals and her career as an elite executive coach, Tasha provides data-backed advice for building and nurturing future-ready leadership (and passing those skills on to others). Participants will leave with several battle-tested tools to improve and a newfound confidence not just to survive, but thrive, in a constantly changing world.
This program will help participants:
Understand the two categories of self-awareness and how they influence our effectiveness, happiness, and change agility.
Discover the many myths of self-awareness, and learn how to avoid the invisible roadblocks that get in the way.
Recognize why power decreases self-awareness and learn a simple tool to get the feedback they need to succeed.
Understand how self-aware leaders create wildly successful teams, and how to create a culture where people tell the truth.
Self-Awareness: The Secret to Building Brand Evangelists
What does it take to turn potential customers into enthusiastic brand evangelists? While it's common to focus on strategies like customer outreach, marketing campaigns, and social media, studies show that the secret to creating customers for life is recognizing and responding to their emotional needs.
And as it turns out, there is one skill that makes or breaks our ability to do so—the skill of self-awareness. Customer service professionals who know who they are and how they come across, for example, have been shown to perform twice as well as those who don't.
Dr. Tasha Eurich is an expert in building self-awareness to support the customer experience—she helped one wireless telecommunications company improve their net promoter score by 12 points in just 12 months through her science-backed approach. Participants will discover that increasing their knowledge of who they are and how they're seen will dramatically elevate their contributions.
This program will help participants:
Discover the three behaviors of self-aware leaders and the roadblocks that get in our way.
Understand their values—not just what they are, but how to live them, and in so doing, create enthusiastic brand evangelists.
Discover why most people don't get the feedback they need, and a simple process to gather enlightening, actionable feedback from their customers and employees.
Learn a few new tools to ensure trusting, compassionate interactions with customers.
Powering Up: How Self-Awareness Helps Women Advance and Thrive
Self-awareness is the foundational leadership skill of the 21st century. Leaders who know who they are, and how they're seen by others, are more effective, confident, respected, and promotable. On average, research shows that women tend to be slightly more self-aware than men, yet they continue to be underrepresented in senior leadership roles. So when it comes to self-awareness, why aren't women's advantages translating into better gender equity? What lessons from the science of self-awareness might explain this persistent gap? And more importantly, what can women, and those who champion them, do to close it?
In this enlightening and inspiring program, audience members will learn how to overcome the often surprising self-awareness challenges women face, discover how to harness their unique power, and acquire several tools to help them succeed, advance, and thrive as leaders.
This program will help participants:
Learn why a lack of confidence is rarely the problem for women, and the real issue that causes them to underestimate their contributions.
Discover and communicate their unique value proposition and defining strengths.
Learn how to self-reflect in a productive and empowering way while avoiding self-doubt and self-criticism.
Understand why women often don't get good feedback and learn a technique for even the most senior leaders to learn how they're seen while deepening their relationships at the same time.
In addition to the three most requested topics above, Tasha speaks on the content from her New York Times best-selling book Bankable Leadership. Since its release in 2013, it has become a popular resource for managers who don't want to choose between motivating their employees and producing bottom-line business results. While the field of leadership development certainly isn't short on ideas, it doesn't always foster behavior change—Tasha's take on leadership provides a wide-ranging array of practical micro-tools that can be used to improve effectiveness right away. Clients often choose to customize learning events to the specific skills they want to improve in their organization. Contact us to learn more.
"Our team was simply blown away by Tasha's incredible presentation style and content, combined with an energetic delivery and a passion that is truly rare. We were so happy with her contributions, in fact, that we've invited her back to do our opening keynote for the third year in a row! She is our new 'rock star.'"
T-Mobile
"Tasha has a message that transforms leaders and organizations. Not only is she a charismatic and enthusiastic speaker, she creates an interactive, participative environment that creates a better platform for learning. We've used her approach with our staff and clients, and we couldn't be happier we did—it's been very informative and has led to positive change."
CoBiz Financial
"Tasha was one of the best speakers from our entire year-long leadership development program—it felt like we were watching a live TED talk, and the content she provided was both relevant and timely, with tons of practical take-aways."
Polycom
"Tasha was excellent and her energy kept the event moving for 90 solid minutes! The entire auditorium was fully engaged, the information was relevant [with] real solid takeaways. Tasha was able to really connect with our associates because she took time ahead to the event to understand our business and our culture."
Walmart
"Tasha was a pleasure to work with and her presentation was the perfect combination of humor, insight, and thoughtful, compelling research."
Greater Washington Board of Trade
Check Tasha's Availability
We manage all of Dr. Tasha Eurich's events and know what it takes to make your next meeting a success. Contact us today for a planning consultation with Tasha's coordinator.